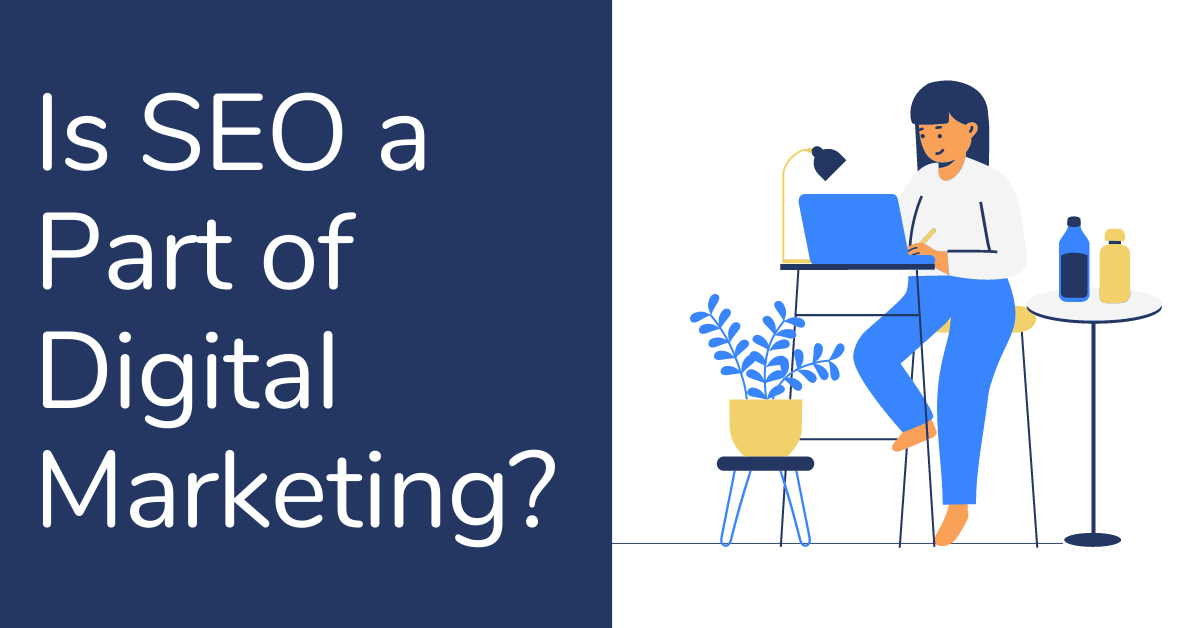 SEO and Digital Marketing are not the same. SEO is a part of Digital Marketing. However, Digital Marketing not only involves SEO but also includes PAID traffic.
SEO however, focuses on driving Free and Organic Traffic to your website from Search Engines like Google, Bing, DuckDuckGo, etc.
The practice of making a web page simple to locate, crawl, and classify is known as SEO (search engine optimization). It's all about assisting your consumers in locating your company amid thousands of others. Any digital marketing plan should include SEO.
It is primarily focused on a comprehensive approach to attracting clients to your business using online channels. And to do so, the website needs to rank better in the SERPs (search engine result page).
To give you an idea, consider this SEO fact: approximately 14 billion searches are conducted online each month.
With the emergence of the global economy, virtually every company now has an internet presence. Take a look at how many of those 14 billion searches are for your business.
To meet that goal, your website must rank higher in search engine results pages (SERPs), perform well in social media marketing, and perform well in PPC (paid per click) operations, among other digital marketing duties.
A well-optimized website will appear on the top page of a search engine results page (SERP).
People, according to popular perception, scan and study the top two pages of a SERP. Search engines are used by over 74 percent of customers to find local company information.
When compared to other forms of online marketing, such as PPC, social media marketing, and email marketing, SEO has a relatively high return on investment.
Nearly 80-90 percent of buyers read internet evaluations before purchasing a product regularly.
What is SEO and How does it work?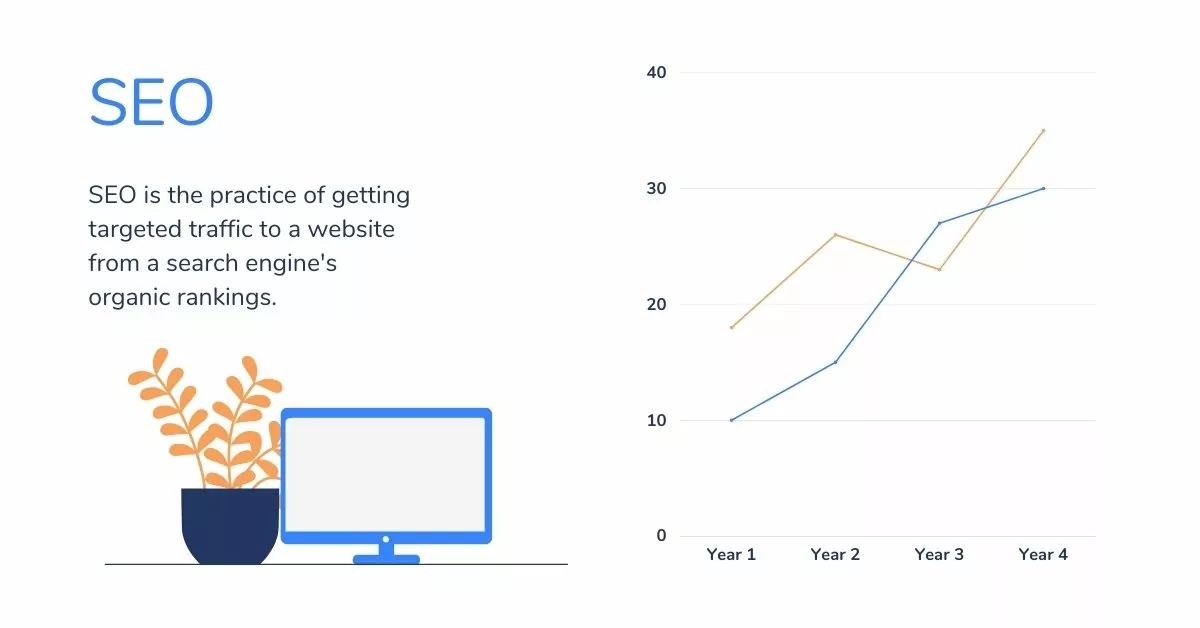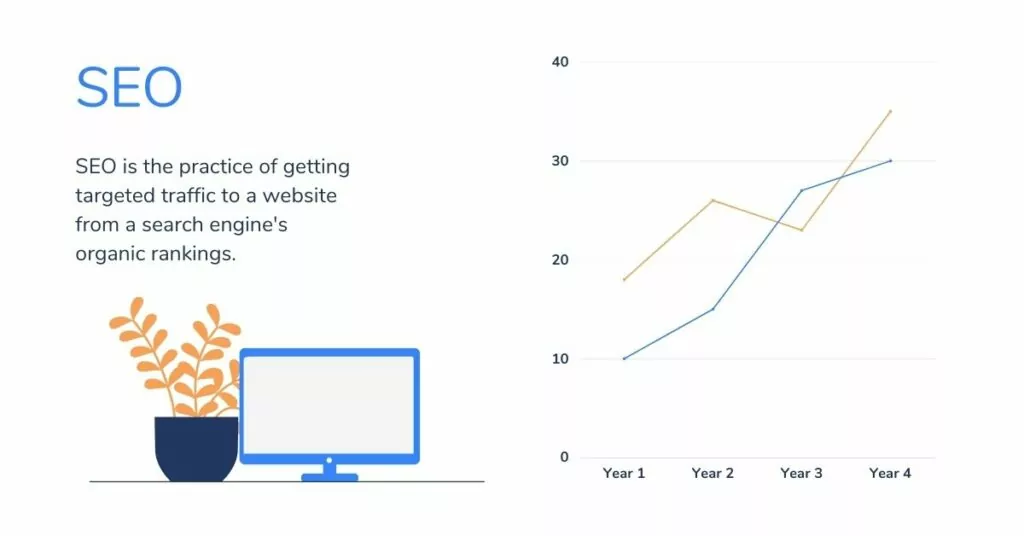 A search engine is a software that crawls the content or online pages. As a result, search algorithms, unlike humans, rely on text. Crawling, scanning, and storing (or indexing), courses of action, assessing pertinence, and recovering are all processes that lead to search results.
SEO and Digital Marketing: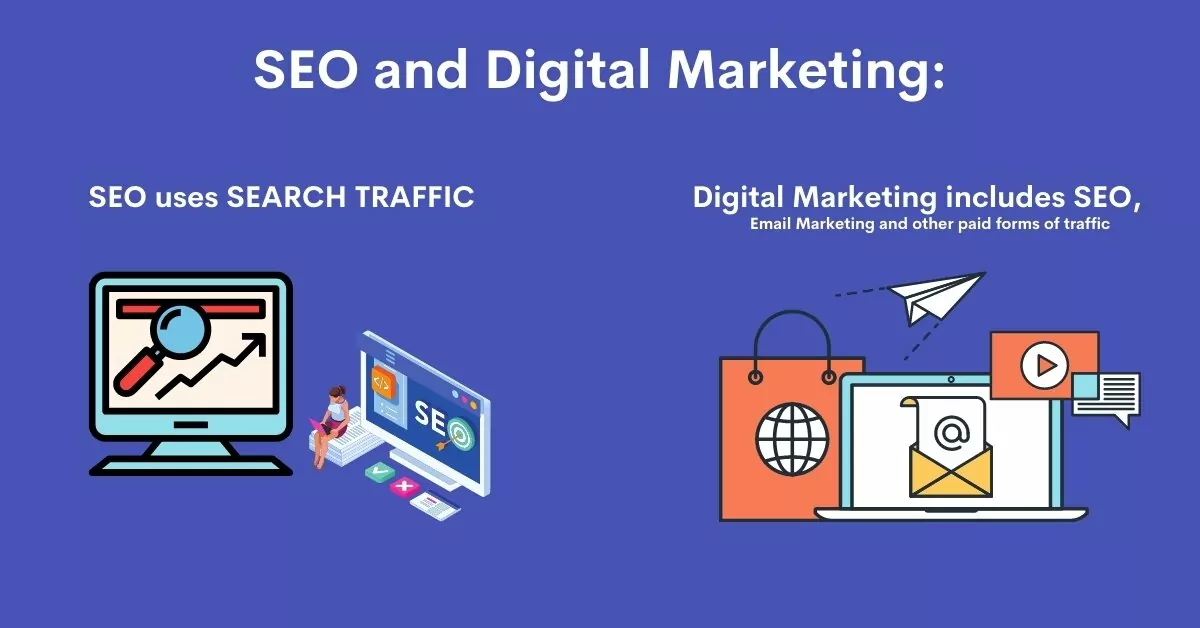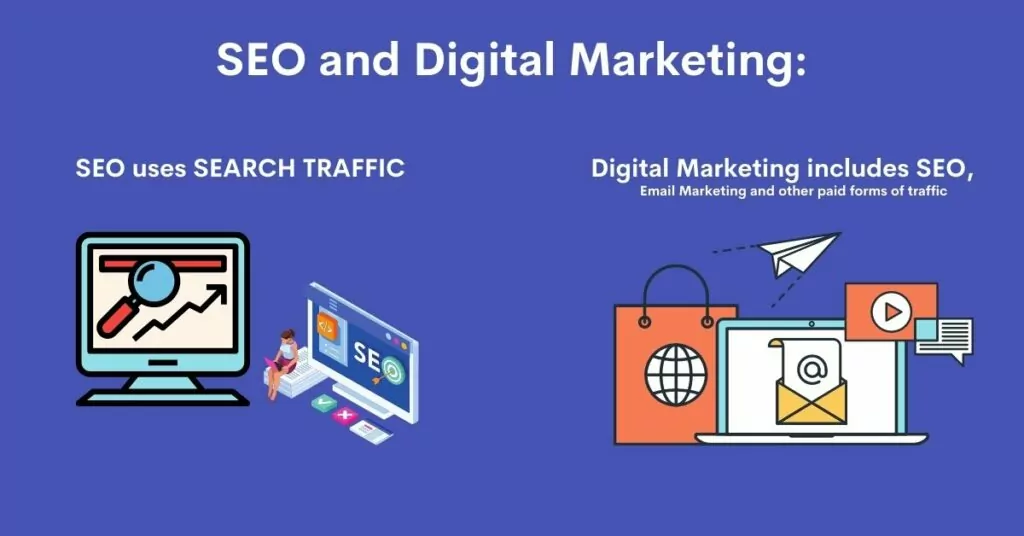 Is SEO a Part of Digital Marketing?
It appears that there is a significant difference between SEO and digital marketing; both perform the same duties and require the same abilities. However, SEO is a part of Digital Marketing. Various names are chosen only for marketing purposes. To grasp this, we must go further into these concepts.
SEO specialists work to increase organic traffic, but digital marketers strive for a company's entire online presence, which includes more than just SEO.
In practice, an SEO consultant is responsible for a variety of aspects of digital marketing. And the entire SEO digital marketing service bundle may be categorized as SEO Packages to make it easier for clients to understand.
Digital Marketers on the other hand, also work on driving paid traffic to your websites and apps, such as social media marketing, and perform well in PPC (pay per click) operations, among other digital marketing duties.
Along with website optimization and search engine marketing, the current trend includes a few other services.
Writing SEO-friendly content, environmental marketing, cognitive marketing, and online technology, as well as Alt-texts in banner ads, social media marketing, RSS, viral marketing, and video content advertising, are all components that help SEO in selecting the right keywords… And for that, you'll need a good digital marketing and SEO plan.
However, in recent years, the concept of Integrated Digital Marketing (IDM) has really taken long strives. Let us now know what that is.
Search Engine Optimization-Integrated Digital Marketing (IDM):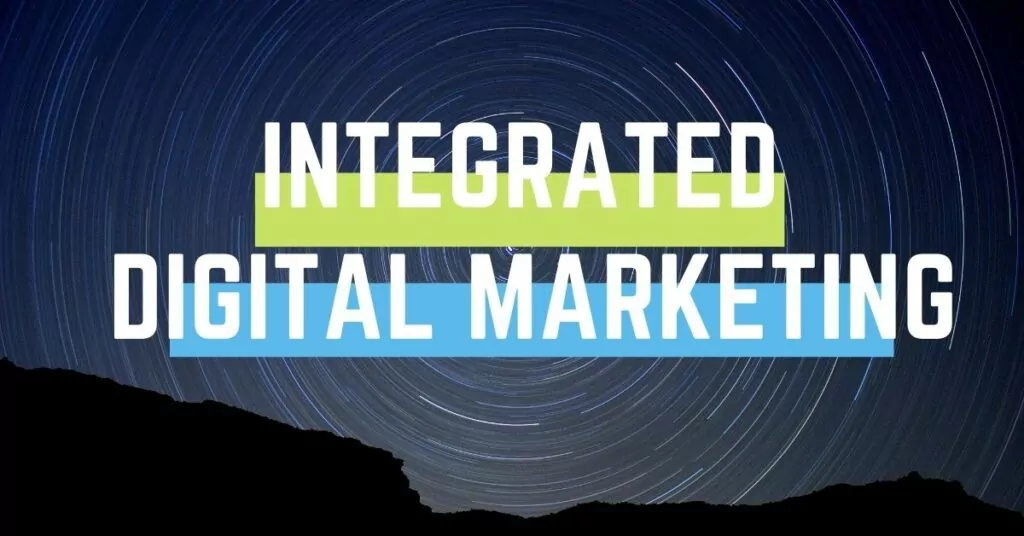 Some marketing professionals refer to SEO as integrated digital marketing when it has progressed that far. Let's shed some light on the situation. SEO is becoming increasingly crucial for the overall effectiveness of digital marketing. And if we closely observe the shifting paradigm of SEO throughout time, we may get a good notion.
Today, a slew of new memes have completely transformed the way an SEO consultant used to operate, even if the fundamental concepts remain the same, such as title tags, H1 tags, and, thanks to Google, everyone's favorite subject, links.
However, many applications that were previously unrelated to how we judged SEO are now.
Social media: Because of the growing use of viral marketing through Facebook, Linked In, Twitter, Yammer, and Google+, social media marketing is gaining traction.
To fully manage SEO potential, these social networking sites must adhere to SEO best practices.
Today's approach is not to build more connections to rank higher: The importance of one's personal reputation has grown. There are several improvisations in the old school of connection construction.
The popular perception of how to rank high in search results is changing: content techniques are no longer the primary way of affecting rankings; instead, creating high-quality inbound links remains a critical SEO factor.
The following are the implied linkages that were taken into account:
Because there isn't a direct connection back to the original site, it's termed implied linking. Brand references and online citations must be handled with care and incorporated into site content in a variety of ways.
The brand mentions in the content are typically linked to the products or services, and the connection to the content is clarified below. It may also be in the comments, which are implicitly nicely incorporated into the text. A brand name or citation is generated as long as the brand or website name is used.
Better brand authority judgment
There is no tampering at all.
Using brand mentions to influence social signals
Citation in the online world is crucial for local SEO
Traditional linking and brand mentions are balanced
Video optimization is a recent newcomer in the world of social media optimization
Aspects of contemporary SEO that aren't always obvious
Data application
Paid search has been reimagined
Video optimization is a recent newcomer in the world of social media optimization
Benefits:
Create brand awareness
Improves the user experience on the website and increases revenue through inbound leads
Make your website mobile-friendly.
Increases the speed of a website
Conclusion:
The algorithms change all the time, presenting you with new difficulties. One thing to keep in mind is that "SEO is a never-ending process," thus there is no such thing as a static SEO strategy that will last forever. Search engines, too, have evolved various regulations as a result of shifting online client behavior.
However, you must take into account your targeted viewer's tastes and preferences, as well as the accessibility of your site and very well SEO strategies. Some people are solely concerned with their SERP ranking and are unconcerned about their users. After indexing the material, the Spiders will assess its quality and relevancy.
If it discovers that unethical methods were used to rank in the search results, it will undoubtedly spam it, and in the worst-case scenario, the search engines will completely blacklist your website.
As a result, the most important duty is to think about your visitors first, how they browse your site, and how satisfied they are with it; all of this will have a direct impact on the site's popularity or the amount of time they spend on each page.
All of these factors add up to a lot of effort when it comes to SEO. For the SEO endeavor, you must allocate daily time to your calendar.
Basically, the SEO strategy is exercised while constructing a new site, but if it is already established and you are adding SEO activities to it, you must give it significance and correctly optimize it.
Please make sure you strike all of the components as you progress.
After incorporating all of these, a digital marketing plan with well-balanced SEO movements will almost certainly succeed in attracting the target audience's attention.