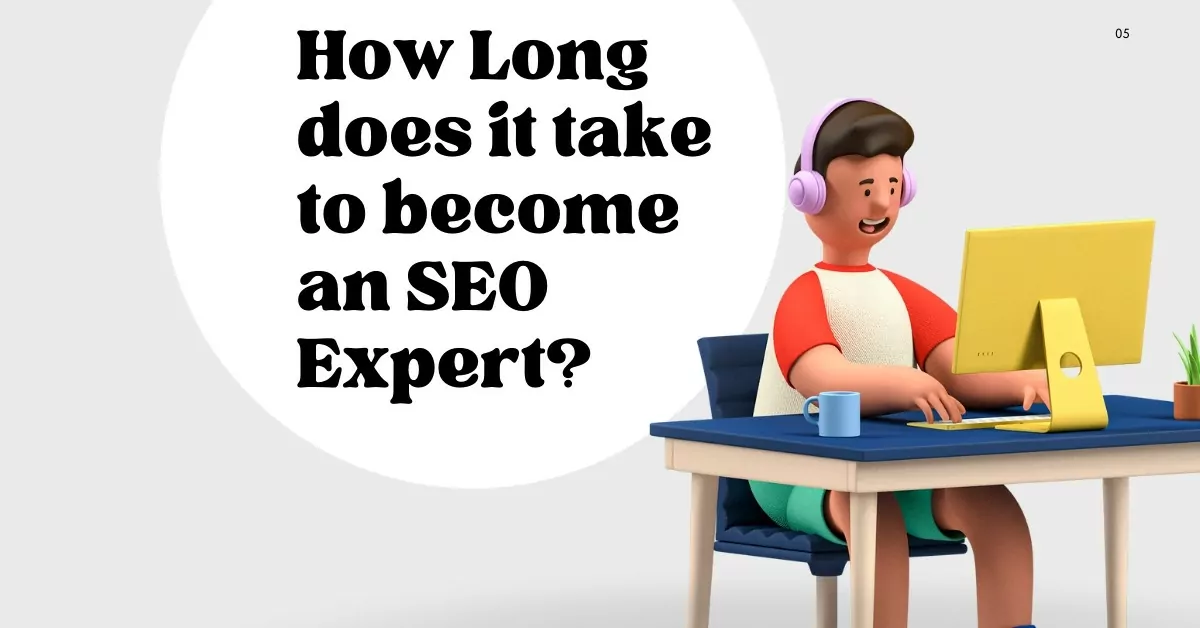 There is no easy way out to become an SEO Expert. At the same time, it is not a complex rocket science too.
To learn the basics of SEO, a normal person takes about 1-3 months.
How Long does it take to become an SEO Expert?
To become an SEO Expert, you need to learn advanced SEO concepts which require anywhere between 6 to 18 months.
As long as you receive expert advice and consume knowledge daily, you can achieve this.
Mentioned below are a few ways to look out for by which you can become an SEO expert in the said time frame:
Get the basics right: Firstly, a basic knowledge of how search engines work and their functionality should be understood. So, it is good to start from scratch and brush up on the theory part first.
Once the basic knowledge is gained, the next step is to know the basics of search engine marketing (SEM).
SEM consists of two main categories.

SEO Optimization: This includes technical SEO, On-Page & Off-page SEO, Content SEO, and Local SEO.
Paid Search Ads: This category includes Google and Bing Ads, Remarketing Search Ads, and so on.

Working on Projects: Becoming an SEO expert means more than just adding the required content words to the web page. The actual objective is to attain the desired position in the search engines and to attract higher revenues. This can only be done when the traffic to the website can be converted into either recurring visitors or customers.
Join a good SEO training course: Many online and offline courses are available today to help you become an SEO expert. This type of field is constantly changing, so select a course with regular updates and fits your budget. Same time do not be entirely dependent on the course itself. Keep yourself well informed about the latest trends in the SEO field and the changes in the algorithms of Google. Subscribe to various skilled SEO-related channels and blogs to be aware of the recent changes.
Pick the right tools: Yes, there are specialized tools for SEO practice. Learn to handle them well and use the right tools to achieve your results successfully. These tools are available as free and paid versions.
Read Case Studies: There are a lot of case studies available on the internet. Catching up on reading these will theoretically help you solve real-time problems and provide the needed inspiration and backup knowledge. Since each website is unique, it also comes with its unique issues. So, practice will help you to become an SEO expert. This shows that this is not a short-term process. Keep up the speed and interest by blogging about the learning experience. Attending PPC campaigns is beneficial too.
Also Check: Is SEO a part of Digital Marketing?
In addition to the above, following the directions of the SEO experts in the field cannot be underestimated.
Read their blogs and look out for specific clues and hints. This, in turn, will boost confidence. At the same time, attend webinars and seminars by the experts so that you can keep abreast with what the leading digital marketing companies are doing.